Submitted by
mark
on Sun, Nov 16, 2014.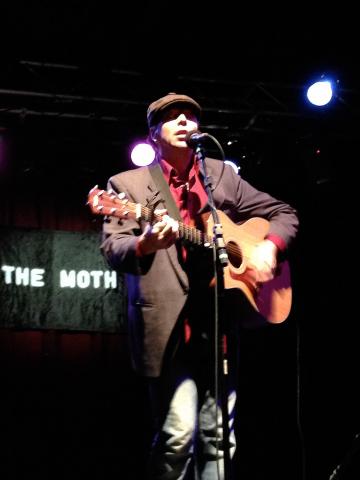 Okay I'll admit it I'm tired. I've done a lot of running around this year. I've loved it but I'm happy to be in one place for a time, though admittedly that feeling doesn't last a long time for me either. I love to be out there among you all, hearing your stories, seeing your cities and having you sing with me. To be honest, I don't even remember the details of all that's happened this year. It's been a blur of movement, planes trains and automobiles as they say; soundchecks, looking for vegetarian meals, lots of meeting people, singing and tearing down afterward, with the odd bit of sleep thrown in here and there but it feels good. I've done house concerts or shows this year in Pittsburgh, Cleveland, Cincinnati, Detroit, New York, Los Angeles and Dublin; so many beautiful nights, spent with wonderful people. I'm in love with this life of mine… and I thank you sincerely for your part!
Here are just some of the highlights: 
I connected, somewhat randomly with a Facebook friend a year ago and chatted online for a couple of months and then decided, I need to meet this woman, and we've been meeting ever since. The talented Memphis George (Jewelry Designer/Poet/Painter/Singer/Songwriter/Purveyor of wisdom and wit!) has been a beautiful addition to my life, along with of course, my amazing kids Cian and Gráinne. Everyone should have a muse and little wizards and/or people surrounding them, who are just so supportive, nurturing and just great fun to be around. I got mine… 
In March I embarked upon the third annual installment of The Calm Before The Storm, at Club Café. It's a pre-St. Patrick's day attempt to rescue Irish music from the melee that the time of year has become. The show throws local musicians in Pittsburgh, (some with no connection to the heritage at all) into the deep end by farming out great old Irish songs and tunes and seeing what they'll do with them but always keeping the quality factor very high. It's a beautiful show and we've sold it out three years in a row so I look forward to getting down to planning the next one. 
I released my new album, "Re-Build," at Pittsburgh's Rex Theater at the beginning of May. It was a beautiful show, kind of emotional in a way and yet, a ton of fun. There was just so much love in the room that night, which seems to be a component of a lot of the shows lately (or is that just how I'm feeling?). We recorded it live with a studio audience at the well cozy Treelady Studios here in the Pittsburgh Area, which in itself was a wonderful experience and I'm eternally grateful to the guys there for pulling off the difficult logistics of it. I'm very proud of this record. I think it captures the energy of what the band and I do and some of the songs are becoming standards (Everybody loves Tallahassee!). I've got some really amazing musicians around me these days: Nathan Zoob, Matt Seigler, Jason Rafalak, Dave Busch, Eric George, sometimes Jesse Prentiss, Lucy Tedesco, sometimes even Erik Lawrence and/or Brad Yoder have taken a spin through the big happy dwelling that is my band, The House of Song. All have created magic on various nights throughout this year and I am so grateful for what they have given and who they are.
In amongst all of that, having sat and ripped apart his songs for weeks at his house, I got down to working in various studios around the world with Tom Danaher on his forthcoming album. Tom is a very interesting character. First off, he's a pure gentleman, a real good egg as we say. He had a major label deal back in the Sixties with his psychedelic rock band Autosalvage and gained notoriety among people who have now become household names to music lovers, hanging around the East Village in New York with the likes of Frank Zappa et al. He then went on to have a successful career as a psychologist, before deciding in retirement that he wanted to put out another album. It's taken me to LA twice over the summer, to work with possibly the most artistic drummer I've ever seen: Quinn. This man is amazing to watch and to work with. His attention to detail, his musicality and sonic textures were and are something to behold. We tracked in LA at Grandma's Warehouse with the highly affable and very able Andrew Bush and I think of them both as an inseparable team. Then we did four days at Orphan Studios in Dublin, tracking Bass and some Backing Vocals with members of David Gray's band: Robbie Malone and Niamh Farrell respectively, who provided us with an armful of beautiful performances and were also a joy to work with. Of course a lot the other work over the next few months will be done on the home turf at Treelady Studios. It's going to be a fantastic album. Look out for that…
Also, of course, while back in Ireland, I got to go reconnect with family and friends, myself and Memphis dragging my Mother around the country to see such wonders as the Dingle Peninsula, Newgrange and the Giant's Causeway, while also visiting Belfast and Derry along the way. It was the trip of a lifetime really and I was so delighted to have that time with my Mother, it touched my heart in ways that I may still need time to figure out. I also got to do some shows with old friends Paddy Casey and Declan O'Rourke that were very inspiring. One in particular was a benefit for Doctors Without Borders to help the children of Gaza. It was a great night of music with myself, Brian Kennedy, Declan and Paddy. The Palestinian Ambassador to Ireland got wind of the show and traveled down to Dingle to be a part of it and turned down his reserved seats in the audience, sheepishly recounting that it's always been his dream to get to hang out back stage at a concert and humbly asked if we might allow him to do so. It was a very funny yet touching moment. He was a lovely guy and even attended the session afterward that went late into the night at a bar that shall remain nameless, where we were joined by members of the Shannon Gospel Choir. The sound given to every song by the vast majority of people in that room was nothing short of mesmerizing and a memory that will never leave me. 
I also met up with my two Uncles and Aunt on my Mother's side, who I haven't seen in quite some time and my Uncle Matt showed me all the digging he'd done to trace the Rooney family's history in the area of Castlepollard Co. Westmeath. He's got it all down as far back as 1795. I've been getting increasingly interested in history in general but for the obvious reasons, Irish history particularly, so I was riveted listening to the old stories from my relatives (My Aunt knew Brendan Behan, lived close to him and his wife in Dublin for a time) Very touching and inspirational stuff… 
So after all that, I'm going to enjoy the winter months and sit and begin writing for the next album and also get into pouring out my thoughts here on the various experiences or ideas that come to me before I start planning to get out there and see you all again. Thanks for reading this and what's to come down the pike and generally for your great support… 
Any questions?